Inspirational: Afowiri reveals how Cameroonian Internally Displaced Persons (IDPs) made his Sydney Marathon Toghu Outfit
Afowiri Kizito Fondzenyuy has revealed the special story behind his 2023 Sydney Marathon Toghu outfit.
Known as the Toghu Marathoner, Afowiri was running his fourth marathon in the outfit having previously worn it in the London Marathon, Athens Marathon and Boston Marathon.
He said when he wanted to make a new outfit, someone pointed him to some very creative Internally Displaced Persons (IDPs) in Bamenda, the North-West region of Cameroon.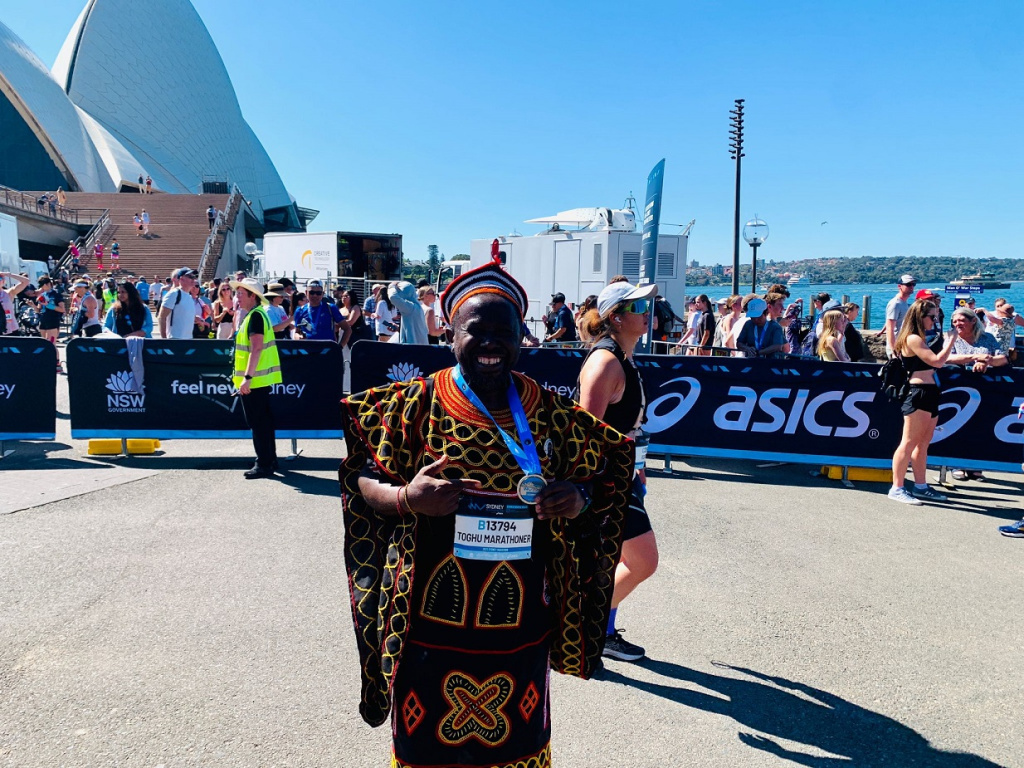 According to Afowiri, he had options of working with some big names in the Cameroonian fashion industry, but decided to give the IDPs a trial and they never disappointed him.
Minnet Fuo (20 years), Brenda Maya (23 years), Kushu Fabrice (19 years), Akenji Risk Jam (19 years), and Akem Obama (16 years), made the dress and according to Afowiri, there are 13 of them living under the same roof.
Saving IDPs with Toghu, The Bobe's way
The 13 IDPs who hope to go back to school someday, are currently learning how to make the Toghu outfit in Bobe's Toghu Tailoring Shop in Bamenda, Cameroon.
The shop owner Joseph Nkwain and his wife Agnes Nkwain are helping the IDPs settle in and find their feet again.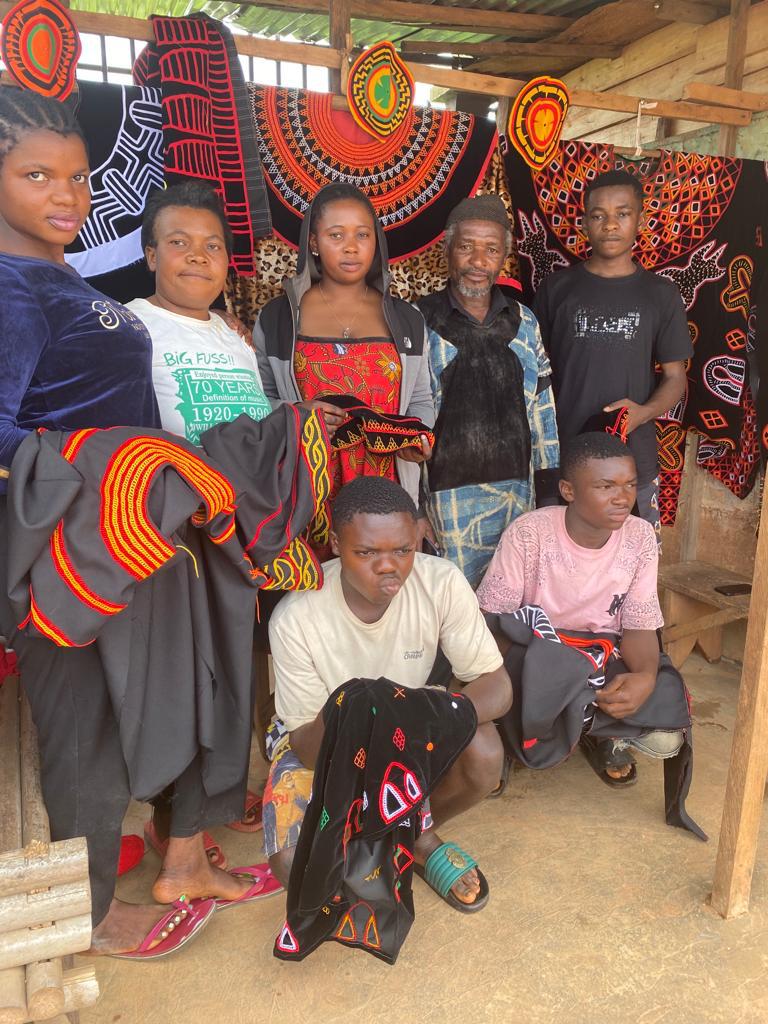 "The job they did shows what they could have achieved if there was peace in the region, They want to go back to school and hopefully go back to rebuild their torn down communities"
"Some of them watched their parents being killed and their houses burnt down. It is already sad and seeing them in this condition is not too good, but the fact that they still want to keep pushing, learn skills and contribute towards the development of the country is inspirational"
"Another hero here is Joseph Nkwain who has taken them in, investing his time to make them resourceful. Following their story gives me strength and I know that as Toghu is becoming a global outfit, they will have their works worn around the world", he said.
He has also completed all formalities for the 19 year old duo of Kushu Fabrice, and Akenji Risk Jam, as well as Akem Obama to go back to school, adding that it will help them become better people in the society.
Minnet Fuo (20 years), Brenda Maya (23 years) who are much older, will require extra classes before they can be formally admitted to school and Afowiri said that the out of school IDPs have given him reasons to run in the next marathon.
Running with all the weights as Toghu Marathoner
Afowiri, is also known as 'Nformi Kileh' (General of Runners), a traditional title bestowed upon him by Fon (King) of Nso people, His Royal Highness Fon Sehm Mbinglo I. The Toghu outfit he ran in was made by the Internally Displaced Persons (IDPs) which made it more special because of the story behind it.
"When I was running, I felt their presence with me; I felt their sufferings back home and it is quite unfortunate that a lot of people are not talking about these things"
"They have dreams just like every other person, but the violence in the region has disrupted it, but I am glad they could tell their stories through the patterns of my outfit", he said,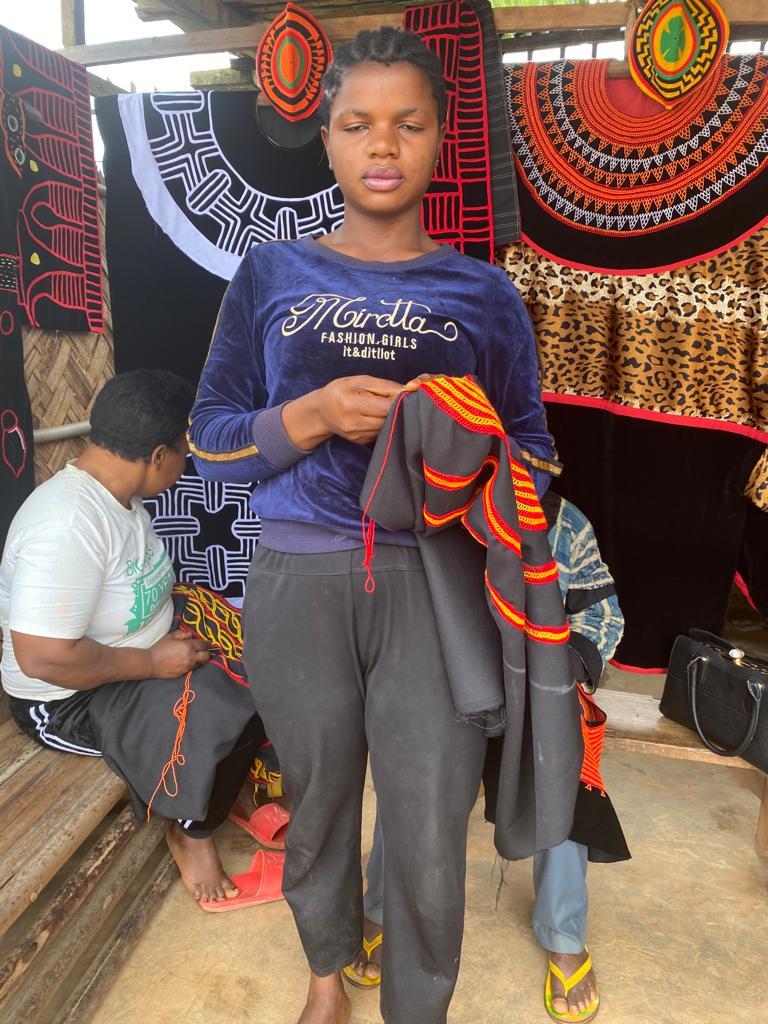 Toghu is the native wear of people from the North-West region of Cameroon, an outfit Afowiri Kizito Fondzenyuy has now exposed to millions of marathon audiences across Europe, America and Australia.
"We started with just a little thought, but look at where we are today. It is overwhelming and when I see how people have come to accept the Toghu Marathoner brand, it inspires me to do more"
"Most people don't know that Toghu is not a light outfit, so when I run with all that weight, I feel the weight of my family, tribe, culture, country and continent that I am representing by running in the Toghu.
"I am running for children who are internally displaced and for those who cannot access quality education. The thought of their plight and struggles keeps pushing me to keep running in toghu and bring awareness and fundraise to help them overcome their struggles.
"When people stop for photos and when people are willing to support my cause, these things make me want to do more and I appreciate everyone who has been supporting me from day one", Afowiri said.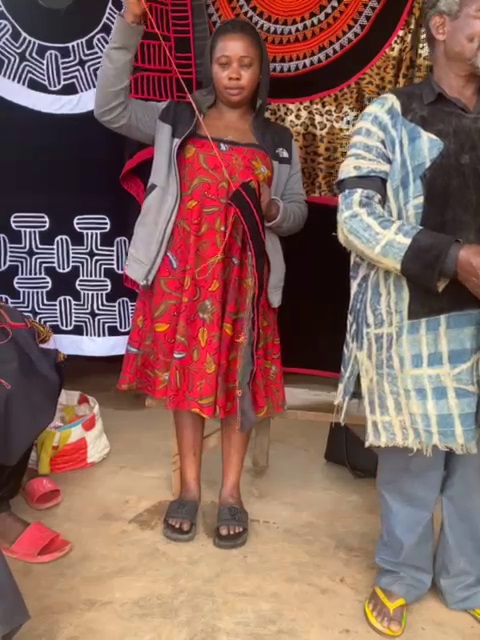 IDPs Give Toghu Marathoner reason to run in Tokyo
By March 2024, Afowiri Kizito Fondzenyuy will be running at the Tokyo Marathon in Japan, an addition to the 419 miles (673 km) he has already covered in 16 marathons.
In Tokyo, he will be running to raise money for out of school IDPs to go back and have good and quality education. He said that one of the goals someday will be to build a school that will offer fully funded primary and secondary school scholarships to underprivileged children in Cameroon and other parts of the world.
"This will be huge for me, but at first we have to get them back to the existing schools and see how can ensure they are getting quality education"
"Things are much harder because some of them do not know the whereabouts of their parents and they survive through the benevolence of relatives, neighbors and friends", he said.
He looks to complete all six Marathon Majors when he runs the Tokyo marathon next year and that would also become his third major and fifth marathon in Toghu.
"The records are exciting, but above all inspiring. After Tokyo, the next would be Antarctica, and I will keep running as long as my legs can carry me"
"I'll keep doing my best to help children get quality education irrespective of their background. As long as I wear Toghu to run marathons, it will keep speaking for who we are, our culture and all the things happening in the North West and South West Regions of Cameroon", The Toghu Marathoner added.